Bob Bennett Endowed Chair in American Politics,
Public Service, and Student Engagement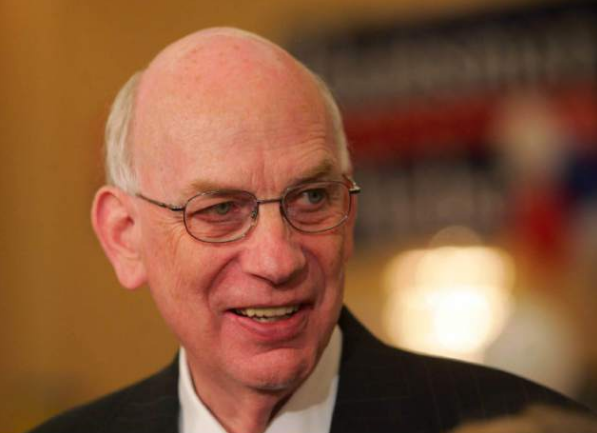 Photo Credit: Trent Nelson | Salt Lake Tribune
Please join with the family of Senator Robert F. Bennett and the University of Utah Department of
Political Science, Hinckley Institute of Politics, and the College of Social and Behavioral Science in the campaign to help create an endowed chair in the Senator's honor.
---
Goal
Raise funds for the creation of a $1,000,000 Bob Bennett Endowed Chair in American Politics, Public Service, and Student Engagement at the University of Utah, where Senator Bennett received his B.S. in Political Science.
Endowments at the University of Utah return, on average, 8% annually. 4% is reinvested in the endowment itself; the remaining 4% is used to fund the endowment.
Purpose
A nationally competitive Endowed Chair to honor the enduring memory of Senator Bennett and his exemplary commitment to public service, developing pragmatic solutions to critical national challenges, and cultivating the next generation of engaged American citizens.
To advance the shared missions of the Department of Political Science and the Hinckley Institute of Politics at the University of Utah. The Bennett Chair will serve as a bridge between the scholarly study of American politics within the Department of Political Science and the mentorship in practical politics that students receive through the Hinckley Institute.
The Bob Bennett Chair will be awarded to a nationally recognized scholar of American political institutions and the policy process with a proven record of achievement as a scholar, teacher, and public advocate.
Chair Activities
Conduct cutting-edge research in the American policy process and contribute pragmatic solutions to key challenges for American democracy.
Provide exemplary instruction to students of all backgrounds in the art and science of government.
Mentor and inspire students to participate actively in politics and public service through local, state, national, and international internships.
Cultivate critical-minded citizens who can apply their knowledge and skills to addressing societal and global challenges.
Provide enriching educational experiences that prepare students for productive careers.
Provide scholarly expertise to help promote the public good and inspire civil and respectful dialogue in American politics.