Why Public Sector?
Political science is a gateway to careers in the public sector, which involve working for local, state, or national government agencies or for the US government abroad. Students majoring in political science learn about the workings of government at different levels and about important political issues. A political science major can therefore prepare students for direct entry into some government positions or for graduate school in public policy, public administration, and political science, advanced degrees offering greater opportunities for public sector career advancement. Students interested in domestic public sector careers can focus their degree through the emphasis on Public Policy (link). Students interested in international public sector careers can focus their degree through the emphasis on International Politics (link)
Hinckley Internships with the Environmental Protection Agency, the Utah Governor's Office of Economic Development, the European Parliament, the US Congress, the US State Department, or other public sector entities can count for credit toward the political science major.
Recent political science graduates have gone on to take public sector positions at organizations such as the Federal Trade Commission; U.S. House of Representatives; U.S. Senate; U.S. Department of State; U.S. Department of Justice; Federal Reserve Board; Bureau of Land Management; Division of Child and Family Services; State of Utah; World Trade Center; City of Taylorsville; Salt Lake City School District; Utah Department of Workforce Services.
---
Alumni Spotlight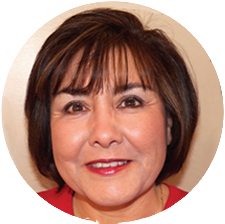 Cecelia Espenoza
Cecelia Espenoza received an Honors Bachelor of Arts degree in 1979 and a Juris Doctorate in 1982, both from the University of Utah in Salt Lake City. She was the second Latina admitted to the bar in Utah in 1982.
She was selected as a National Hispana Leadership Institute Fellow for 2003. She has a long history involvement in serving the Latino community. Since graduating from NHLI, Cecelia was a Charter Member of LULAC Chapter 4610 including serving as the Vice President in 2007 and Secretary in 2008. She has served as NHLI Class Representative since 2006 and has reviewed NHLI Executive leadership Program Applications since 2004. She facilitated a visioning process for the initial ALL IN class' project development and has reviewed Latina Learning to Lead (LLL) applications as well as attended LLL graduations for several years. She was an Advisory Board member to the Arlington based Latinas Leading Tomorrow program from 2007-2010. Cecelia also served as the Chair of the first Northern Virginia Program Hispanic Youth Symposium in 2008. She also served as a Board Member on Governor Kaine's Virginia Latino Advisory Commission from 2005-2007 and as a Commissioner and Principal Author of the 2004 Commission Report (2004) to Governor Warner's Virginia Latino Advisory Commission.