Congratulations to Kim Gabbitas!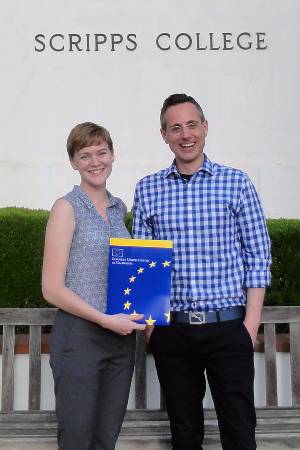 Kim Gabbitas, '17 (Political Science), recently presented research on 'Trade Union Trade-Offs: Unions, Voters, and the Rise of Right-Wing Populism' at the 15th Claremont-University of California Undergraduate Research Conference on the European Union, April 6-7, 2017. This annual conference is hosted by the European Union Center of California at Scripps College and attended by students from universities all over the U.S. and Canada, including Baylor University, Brigham Young University, George Washington University, University of Arizona, University of California at Berkley, Los Angeles, and Santa Barbara, and University of Toronto.
Kim's conference paper develops a theoretical link between the declining influence of blue-collar unions and support for populist movements in European Union member states before statistically testing the empirical implications of her argument using European Values Survey data. It was not only selected for publication in the conference journal, but Kim received the best paper award, a one-week summer study trip to Brussels, Belgium.
Kim's research has been supervised by her faculty mentor, Dr. Tobias Hofmann, who also attended the conference as a volunteer panel chair, discussant, and judge. Kim and Dr. Hofmann would like to acknowledge the generous support of the University of Utah's Office of Undergraduate Research and Department of Political Science.